You're a small-business owner with a beautiful, easy-to-navigate eCommerce website and unique, high-quality products. On top of this, you pride yourself on good customer service. Business is steady, but of course you'd like to keep growing.
According to industry experts, businesses have a 60 to 70% chance of selling to an existing customer, compared to only 5 to 20% for new prospects. Given these odds, it's clear that in order to increase sales, you have to convert first-time buyers into regular visitors to your site.
Because of the level of competition in the small-business market today, it's not enough to rely on the value of your product alone to attract returning customers. You must consistently exceed your customers' expectations, and one avenue more and more businesses are using to do this is the packaging insert.
Including discount offers, small gifts or personalized messages with product shipments is a cost-effective way to increase customer loyalty and have buyers visiting your site again and again. Other benefits of package inserts include:
They are cost-effective. There are a variety of insert options to fit your budget. Plus, since you include them in your product shipment, the delivery cost has already been taken care of.
They can be highly targeted. Because you know what the customer has recently bought, you can tailor a message to match his or her preferences and interests perfectly.
They allow you to cross-sell products. Advertising the wrong product at the wrong time to a customer can hurt your reputation. Packaging inserts help you avoid this mistake and showcase specific products that are likely to catch your customer's interest.
With this marketing tool, you can not only exceed customer expectations but also increase your advertising efficiency. The best part is the vast range of insert options available. From promos printed on business cards to small incentive items, there is something for every type of business and budget.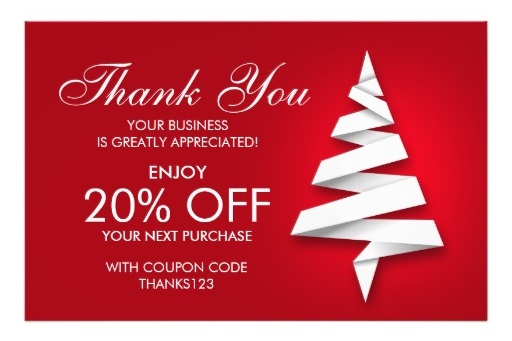 Discount Offers
Why not reward your customer for making one purchase while guiding them to another? Promotional email sent to customers is often not read at all. To ensure special offers are seen, print exclusive deals on business cards and place one or two in each shipment.


Product Samples
Another way to encourage customers to return to your website is by cross-selling products when delivering a purchase. For example, if someone just bought a set of utensils from your dinnerware company, include a jar of silver polish in the shipment. Whether you have sample sizes of items or simply have inexpensive products to spare, including a little swag your customers – and even their friends – will enjoy is a surefire way to get people raving about your business.


Small Gifts
Unexpected treats will make your customers feel extra special without it appearing like you're just trying to sell another product. Consumers are hounded with more advertisements than they can digest as it is, and this alternative route will come as a welcome surprise.


Handwritten Thank-You Notes
Most people send electronic birthday and thank-you messages nowadays, but there's nothing like receiving a handwritten card – it just seems more genuine that way. Taking the time to write out a personalized note to your customers will make them feel valued and make your business stand apart from the rest.


Appeal for Social Media Reviews

Are you confident your customer will love a particular item? Did you include a package insert that is sure to put a smile on the recipient's face? If so, don't be shy about asking customers to leave a review of their experience.
It's never a good idea to put all your eggs in one basket, but it is a good idea to take advantage of that basket. Maximize the opportunity a shipment provides by adding something unexpected – you'll exceed your customer's expectations and likely see positive results immediately.
Recent Posts
Kevin Hopkins February 15, 2019 Real Estate's New (Virtual) Reality Anyone who has pl …

It's a social media obsessed world, and customers are not afraid to voice their opinions to their mi …

A few years ago, "Millennial" was just another term for "teenager," nothing less, nothing more. Toda …