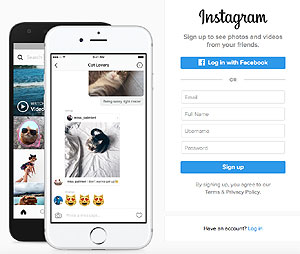 Instagram is becoming more popular. In fact, the photo-sharing network now has 500 million monthly active users, a 100-million increase from September 2015. All this popularity means that an Instagram business account gives you the potential to reach a huge audience. At the same time, though, it means you have a lot of competition standing in the way. Fortunately, we at San Diego Media have compiled a few of the cleverest ways to showcase your content and bound ahead of your competition.
Include a Link in Your Instagram Profile
Most of the solutions below are easy ways you can help your Instagram presence grow, but this one has to be the easiest. The only clickable space Instagram provides is in your bio – a limiting reality. While you should include a link to your site's homepage in your profile, occasionally switching it out for another URL will provide more flexibility. For example, you can highlight specific product pages, your blog or a landing page. (Note: You need a Bitly or goo.gl link to track where the traffic came from; otherwise, Google Analytics will record the traffic as direct.)
Add Diverse Hashtags
Although you have the option to use up to 30 hashtags on Instagram, aim for about half that number. Above all, make sure the hashtags you choose are relevant to your business and avoid using trending ones that have nothing to do with your brand just because you want to get noticed (that won't work). Add your industry's most popular hashtags as well as those that are average in popularity and those that are rarely used. In addition, creating unique hashtags is important for enabling users to find only your content when they search a particular hashtag.
Use Text Overlay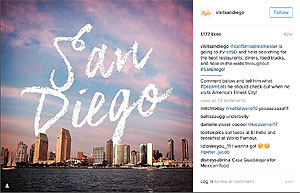 Want your message to really stand out? A text overlay on a photograph is a simple way to spruce up the traditional Instagram post – and the best part is that you don't need to be a professional graphic designer to make it happen. Whether you want to advertise a sale or simply highlight the name of your business, user-friendly programs like Photoshop, PowerPoint and Canva provide the tools you need. The text overlay will take your post to the next level of professionalism and give your post an edge over your competitors' accounts.
Put Your Products in Context
As we mentioned in a previous post about which images to include on your website, appealing to emotion is a major aspect of advertising. Does your business sell furniture? Don't simply post a photo of a recliner – post a photo of someone curled up in the recliner, enjoying an evening at home. Does your business sell electronics? Post a laughing child with a tablet in hand because your product is that simple to use. A familiar environment will catch the customer's interest in a way a product alone never can.
Connect to Facebook
Because Facebook owns Instagram, connecting these two social media networks will bolster your marketing efforts by helping centralize your content. For example, creating an Instagram tab on your Facebook page will allow you to share your #instas instantly with your fans, thereby automatically expanding your reach.
Engage with Customers
You check your Facebook Page and your Twitter mentions. Make sure to check your brand's hashtags with the same consistency, as customers are likely to communicate with you through them. But responding to comments is the bare minimum. You should actively like and comment on your followers' product-related posts, and even @mention followers/customers who have awesome pictures of your products.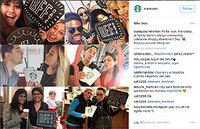 Starbucks, which is consistently cited as one of the best-branded companies on Instagram, regularly spotlights artistic customers who create cool images – regardless of whether the image has a Starbucks product in it or not. Going above and beyond, the company even updates its Facebook page with these pictures. By making its Instagram profile about a lifestyle and not just a product, the coffee giant has found a way to connect with fans authentically.
Personalize Your Brand
Instagram is primarily a photo-sharing site, but it offers video as well. A 15-second clip can be a great way to help followers familiarize themselves with your business. For example, you could post a quirky clip of your employees having fun or a message from your CEO.
Instagram is also a great platform to build excitement around the launch of a new product. Before the actual launch date, you can post one clip – or a series of clips – offering clues about a new mystery product (similar to how Apple unveils the latest gadgets). The day of, publish a behind-the-scenes clip of your employees preparing for the launch. The suspense is a great way to spark a genuine curiosity about your product.
Keep Track of the Numbers
For the best ROI, post to your account consistently and figure out your post frequency. You may find that two or three times a day works better, or two or three times a week. Likewise, you'll have to figure out your optimal posting time, as it varies among industries. It's also a good idea to keep track of the number of hashtags you find successful and followers who frequently post about your products. (This last tip is a good idea if you want to reach out to them to ask if you can repost their content.)
Have you seen any improvement in your Instagram popularity after using one of these tactics? Do you know of another good trick? Let us know!
Recent Posts
Kevin Hopkins February 15, 2019 Real Estate's New (Virtual) Reality Anyone who has pl …

It's a social media obsessed world, and customers are not afraid to voice their opinions to their mi …

A few years ago, "Millennial" was just another term for "teenager," nothing less, nothing more. Toda …