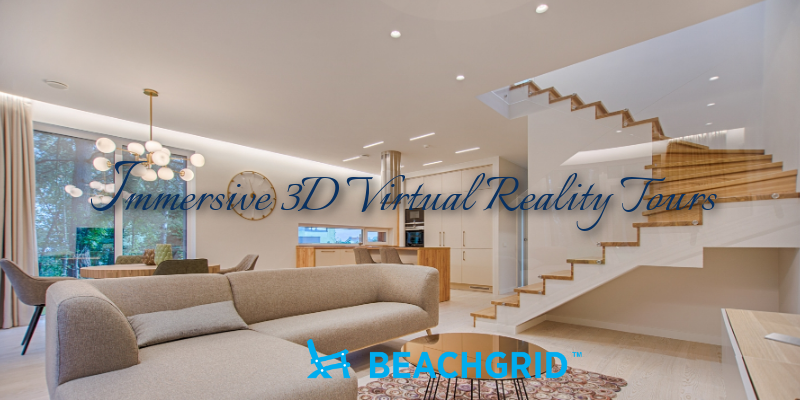 Kevin Hopkins
Real Estate's New (Virtual) Reality
Anyone who has played a first-person 3D video game or ridden on Disneyland's "Star Tours" ride knows the thrill that "virtual reality" can bring to what were once rather pedestrian games or rides. But now, that same technology—thanks to the Internet—is about to revolutionize the residential real-estate business as well.
Of course, if you're selling a home—whether as an owner or as a real-estate agent—you already know how valuable the Internet has become. In fact, it's where most people turn first. According to the National Association of Realtors, 95% of home buyers use the Internet to look for homes—and, for 51% of buyers, the property they ultimately purchase is one that they found online.
As you also know, most of these home searches begin with a real-estate website, which typically lists hundreds if not thousands of homes for individual buyers' preferred location. Using the site's search filters—like price, property size, number of bedrooms, amenities, and so on—buyers can quickly narrow their choices to a large handful. If the home you're selling meets those criteria, it will likely become part of the buyer's consideration set.
And that's where the challenge begins.
Creating a Vivid Experience
From the beginning of modern real-estate sales, one of the seller's most important marketing tools was an engaging flyer—with lots of attractive photos of the home's best features. Once the Internet arrived, that principle moved online, giving sellers the opportunity to display dozens of sharp, full-color photos in easy-to-browse digital galleries. Later, a new generation of cameras allowed sellers to create circular, 360-degree views of individual rooms, giving buyers a more complete picture of the home's interior.
Today, visual presentations like these are so commonplace that very few homes sell without them. And no wonder: home-buying is an intensely visual process, and the listings that give buyers the most vivid sense of what it actually would be like to live in the home are the ones that usually sell first.
But even the best picture galleries and 360-degree photos offer buyers only a rough impression of the experience of living in the home. All such photos—even the 360-degree kind—are flat, two-dimensional images that rather poorly capture three-dimensional living spaces. Worse, the areas depicted in 360-degree photos are often badly distorted, and, in neither photographic type, are the isolated images connected one to another.
Welcome to the New (Virtual) Reality
From a seller's standpoint, though, one additional factor may be even more important: because the photographic advances just described have, in fact, become so commonplace, almost all online home listings now look about the same. And that means that, even for the most exciting properties, it's very hard to stand out.
Or at least it was. For the commonplace in real estate is about the be replaced. As Forbes magazine recently noted, the emerging technology of fully immersive, fully interactive virtual reality is "upending the process" of buying a home.
Welcome to real estate's new (virtual) reality and our partners at Beachgrid has a solution for you.
A Superior Real-Estate Sales Tool
With immersive, high-resolution, three-dimensional virtual reality (VR)—available from Beachgrid and our VR partner Matterport— you can literally "walk through" a home or other property online, almost as if you were there in person. With VR, you can move directly from room to room, step forward or back, and scan the room's fully three-dimensional furnishings and appointments as easily as turning your head.
On screen, the experience is amazing; with a VR headset, it's positively mind-blowing. You will feel as though they've actually visited the property in person.
There's no better real-estate sales tool than this.
A Number of Powerful Benefits
Indeed, sellers will be able to benefit from this surprisingly affordable technology in a number of powerful ways:
Increase leads. Real-estate listings with virtual tours generate 95% more phone inquiries, 65% more email inquiries, and 49% more qualified leads overall than listings without VR tours.
Sell faster. According to the real-estate website Redfin, homes with 3D virtual tours sell an average of 10 days faster than comparable listings that don't use VR.
Sell for more. Redfin has also found that homes with virtual tours sell for an average of $50,100 more than other homes in the same price range.
Sell more widely. With 3D virtual tours, it's almost as easy to sell homes to a buyer in another state or across the globe as it is to someone down the street—an especially critical factor for luxury home sales, in which the buyer typically purchases the property without ever visiting it.
To learn more about the applications and benefits of immersive 3D virtual reality for residential real-estate sales and rentals, visit our 3D Virtual Tours for Real Estate Agents, Brokers & Home sellers page or call 858-248-1049, we are happy to your 3D project and answer any questions that you may have.
Also discover how 3D virtual tours help these other markets -
Travel & Hospitality | Insurance and Restoration | Rental Properties | Architecture, Engineering, and Construction (AEC) Industries | Businesses
Recent Posts
What is Google My Business and why do you need to be using it for your business?The days of sm …

Even the most accomplished writers get blocked. What can help is to follow a framework that is trie …

Consumers seek time-saving shortcuts all the time, and their attention naturally gravitates to the q …